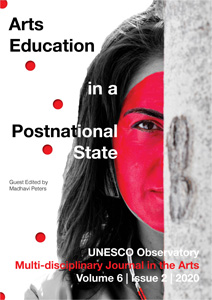 Volume 6, Issue 2
December 2020
Arts Education in a Postnational State
ISSN 1835 – 2776
Guest Editor
Madhavi M Peters Esq
The past year has not been a good one for those of us who still believe in the open societies of the liberal democratic ideal. The frightening speed with which localized viruses such as the SARS-CoV-2 can evolve into global pandemics highlight the considerable challenges of a world with open borders and a highly mobile population.
Add to this other concerns, such as unfettered and secretive global capital flows, a virtual world highly susceptible to attacks from malevolent anonymous actors, a perceived lack of accountability in governance structures, environmental catastrophes with worldwide repercussions, and so on. It's unsurprising that the public at large feels a loss of control and the urge to retreat into the safety of the familiar.
After all, according to the British anthropologist Robin Dunbar, humans can comfortably maintain stable social relationships with no more than a hundred and fifty people. Yet our world now demands that we extend a sense of empathy to seven billion people.
Globalization's cheerleaders thought that it would bring an end to history and the nation state. How wrong they were!
All is not lost, however.
Like that one small village of indomitable Gauls, there is a frozen corner of the world where the spirit of openness is alive and well: Canada.
Here, in the face of jingoistic nationalism resurgent elsewhere, upon becoming the prime minister in 2015, Justin Trudeau cast Canada as the 'first postnational state', a place where 'there is no core identity, no mainstream' (as quoted in Lawson). Who could forget the image of Trudeau greeting Syrian refugees with open arms at the airport, even as the rest of the world closed its doors? This powerful gesture telegraphed to the world that anyone could be Canadian, should he or she so choose. They did not have to look, speak or worship a certain way.
Still, even postnational states must rely on the traditional machinery of the nation state to be functional, and this requires finding some common ground and purpose with an imagined community (Anderson 1983).
This is where the arts play a crucial role, for what are the arts if not the stories we tell about ourselves? The visual arts, literature, music and architecture, all of them have a role to play in helping diverse and disparate individuals to slowly coalesce into a common 'we'. Our shared appreciation of a great painting, song, book or movie helps us find common ground and imagine each other as members of a community.
Dr Jérôme Pruneau of the Montréal-based organization Diversité Artistique Montréal provides an example of the power that art wields in defining a common identity in his essay 'Artistic and cultural equity in a postnational state: the exception of Québec'. In 1968, the Québécois playwright Michel Tremblay chose to use Joual, the basilectal Québec French associated with the French-speaking working classes in Montréal, rather than standard French, in his play Les Belles Soeurs. The choice of Joual validated the notion of Québec as a separate nation within Canada, based on the unique language spoken by the Québécois.
When we talk about the role of the arts in nation building, we must consider both artistic heritage and contemporary art. One feeds into the other, of course, as contemporary art works are more likely to enjoy state patronage when they bolster heritage narratives. This is why it is important to examine which art gets heritage designation, which artists make it into the history books and which art gets to define who we are as a people: none of these decisions are politically neutral.
This is all the more so for a young state like Canada, with an official policy of multiculturalism and where heritage narratives are still fluid. As Soni Dasmohapatra, a grants coordinator at the Edmonton Heritage Council in Alberta, writes in her essay 'Heritage documentation and impacting social change in Alberta', when we examine who gets to write the heritage narratives in Canada, the picture that emerges is a homogenous one, and to that extent, the Canadian heritage narrative finds more resonance with certain groups of stakeholders over others.
Consider that 21.9% of the Canadian population is foreign born, 17.7% are second-generation immigrants and 22.3% are visible minorities.
Between 2011 and 2016 alone, over one million immigrants arrived in Canada. One would think that in such a multicultural state, it is all the more imperative that the heritage narrative resonates with the majority of stakeholders: for that to happen, however, a concerted and systemic effort must be made to include a diversity of voices upstream.
(For what it's worth, artistic heritage may not be a settled question in the established nation states of Europe either. Witness the controversy that arose when Mary Beard, a classics professor at Cambridge University, confirmed that Roman-era Britain was ethnically diverse. Were this view of Britain's past to gain wider acceptance, it would demand that the guardians of British culture take another look at what gets to be designated as British heritage.)