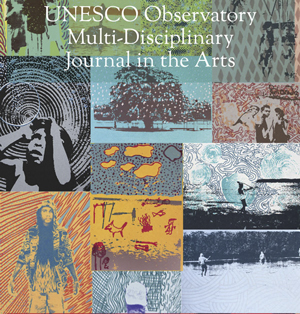 Indigenous Education In Australia: Place, Pedagogy and Epistemic Assumptions
ISSN 1835 – 2776
This special edition of the UNESCO Observatory e- Journal focuses on education for and about the First Peoples of Australia and bears witness to the many faces of Indigenous education in Australia. It testifies to a complex landscape; places on a map, places in minds and places in spirit that taken together present a snapshot of the tone and dimension of Aboriginal and Torres Strait Islander education in early 2015.
Indigenous education policy is framed by a bi-partisan commitment to 'closing the gap'. In some instances, Indigenous leaders are framing the debate over how this is best achieved. At the same time, non-Indigenous educators are increasingly becoming aware that equality and mutual respect can only be established once the Australian community opens its mind to the ancient wisdom and the true stories of this place. Many of the articles in this publication identify the 'gap' as an epistemological divide and argue that, like any bridge, education measures aimed at 'closing the gap' need to be constructed simultaneously from both sides. To that end, a number of papers focus on initiatives being developed and explored by mainstream schools to give authentic voice to the perspectives of First Australians for the benefit of non-Indigenous students.
The papers in Volume One, 'Indigenous Education in Australia: Policy, Participation and Praxis', are all concerned with how Western educational structures and institutions work for and with Aboriginal and Torres Strait Islander students. Volume Two of the Journal is entitled 'Indigenous Education In Australia: Place, Pedagogy and Epistemic Assumptions'. Each of the articles in this volume pertains to the education experiences of people living in remote Australia.
The articles in this publication take the reader through a rich multidisciplinary tapestry that points to the breadth and complexity of the Indigenous education landscape in Australia today. The papers are honest and true to the heterogeneous communities that are the First Peoples of Australia. Similarly, the poetry and artworks that appear here bear witness to the breadth, depth and diversity of artistic talent and tradition in this country. Taken together, they challenge the reader to move beyond a simplistic quest for 'the silver bullet ' to redress disparity in education outcomes between Indigenous and non-Indigenous Australians. They encourage reflection, innovation, reciprocity, respect and empowerment through education.
We recommend each and every article.